Innovation is key to our vision. Improving products, reducing the impact of each manufacturing process on the environment, managing energy consumption, and more. In our cutting-edge laboratory, our chemists and researchers strive to meet these ambitious goals.
Gastronomy professionals are searching for glasses that satisfy their needs in terms of perfection and sophistication. Their desire: splendidly elegant table settings with fine, lightweight, extremely transparent products. Their professional needs: intensive daily use requires products that are highly resistant to shocks and detergents. To meet this double challenge of aesthetic excellence and superb resistance, the Arc Research Centre is introducing a new generation of lead-free crystal - Krysta, combining superior strength with exceptional finesse.
SUPERIOR STRENGTH
Finer and stronger: the Krysta innovation. Lip: with a thickness of 1 mm, KRYSTA is 30% stronger than other standard crystal glasses. Stem : ultra-delicate stems (~6 mm in diameter) have twice the mechanical resistance than other standard crystal glasses. Savings across the entire chain: fewer breakages and chipping during transportation, storage, washing and polishing.
COMPLETE TRANSPARENCY
Krysta is the purest and most transparent crystal glass on the market.The perfect mastery of its composition, the quality of the sand used, and fusion at a very high temperature gives Krysta perfect transparency.
• Tables enhanced by the sparkle of Krysta.•
The vessel of every wine respected to perfection.
LONGLASTING BRILLIANCE
Krysta has extreme brilliance sustainable over time. After 2000 cycles in professional dishwasher, Krysta keeps its original brilliance and transparency.
• Glasses that bring their unique brilliance onto your tables.
• Lasting glow you will keep for a long time
PERFECT ACOUSTICS
Thanks to its exclusive formulation, Krysta produces a clear and pure sound in the traditional sound of the best crystallines.
• The seduction of Krysta: a unique sparkle associated with a singular sound for a refined sensory pleasure.
High Transparency glass
100% clarity
0% coloration
Glass in its purest form - Arcoroc has the "High Transparency - Purity certified glass" label on some of its products, which certifies that these items are made with only the highest quality glass. Due to its composition and laboratory-tested and confirmed performance, Arcoroc glassware features an exceptional level of purity (Quality certified by the IWA 8/AFNOR Clear Glass Standard).
Fully Toughened / Tempered
Our Fully Toughened / Tempered stemwareranges offer an increased life span, up to 15 times longer. They also bring increased strength, thermal shock resistance and safer breakage pattern, all of which bring true added value to any venue requiring a performance product.
Savings in terms of budget and restocking costs:
A fully toughened glass can be up to 5 times more resistant than an item that has not undergone any specific treatment process.
Fully toughened products are resistant to variations in tempera-ture of 135°C:
They can thus be removed from the oven (or from a salamander) and placed directly in cold water without the risk of breakage.
Completely safe for service:
When a shock or series of shocks manages to rupture the exterior shell of the fully toughened glass, the resulting broken glass shards are not sharp to the touch.
Zenix
Thanks to an innovative manufacturing process, Zenix combines the refinement of a warm white colour, perfect for food presentation, with advanced technology.
Zenix is also remarkable for its flawless finish to the face and base of each item. Completely smooth foot and no pin marks
X3
Zenix® is up to 3 times more resistant to shocks and chipping than por-celain, saving you money and restocking
REINFORCED
Zenix® has a perfectly smooth and non-porous reinforced surface.
RESISTANT
Resistant to variations in temperature of 130°C
0%
100% Zenix®, 0% porosity. 100% protection against bacteria.
Opal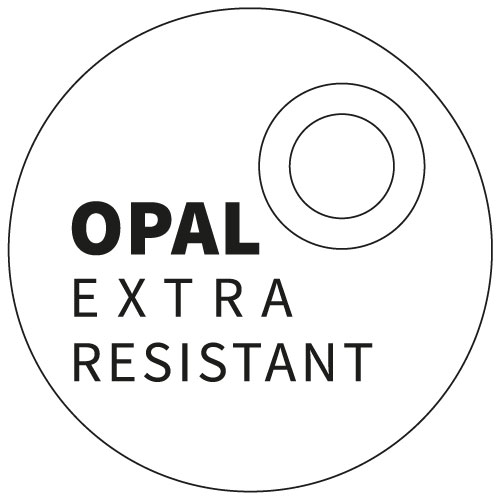 In 1958, Opal was developed by the Arc research and development department as a new generation material  for dinnerware. Since then, it has been perfected and food service professionals all over the world use this all-round dinnerware material solution that is economical, ecological and practical.
Up to 3 times more shock-resistant than porcelain: the secret of its unbeatable durability.
Opal products are resistant to variations in temperature of 130°C: they can be removed from the oven (or from a salamander) and placed directly in cold water without the risk of breakage.
Fade-resistant surface and pattern, even after 2,000 industrial dishwashing cycles.
As efficient in keeping food hot as other materials such as porcelain(at the same thickness and weight).
Can be safely handled after microwave use.
100% Opal, 0% porosity. 100% protection against bacteria.
Extra Strong Porcelain
The ceramic material used for Chef&Sommelier™ and Arcoroc™ collection is of remarkable quality (it contains a high percentage of alumina) , which has no equal but its resistance.

• SUPERIOR SHOCK-RESISTANCE:
Arcoroc™ and Chef&Sommelier™ porcelain offers a superior shock resistancethat is perfectly adapted to professional intensive usages.

• LONG-LASTING SCRATCH RESISTANCE

• EXCELLENT DISHWASHER RESISTANCE:
Both surface and decoration even after 2,000 industrial washes.

• CREAM WHITE PORCELAIN:A seal of quality and purity.

• HEAT RETENTION LEVELS:
as effective as those offered by other materials currently available on the market.
Stainless Steel
DESIGNED FOR INTENSIVE AND PROFESSIONAL USE
The reliability and durability is underpinned by strict specificationsand rigorous checks at each stage of the manufacturing process.Most of our collections are done in 18/10 - ASI 304 stainless steel, what is ideal for use in high-quality cutlery and to guarantee resistance, the thickness of the cutlery is examined in minute detail.
Some of our Arcoroc™ collections are done in 18/0 - ASI 430 performance polished stainless steel, also resistant and designed for a long life. Each piece of our cutlery has been designed to combine elegance with perfect ergonomics and balance.
Our cutlery is wash resistant and respects dinnerware material byavoiding scratches.
The bending strength and torsion resistance has been designed to beabove the requirements of the industry.
Regarding our knives some are available in both solid handle and hollow handle formats. Our solid handle knives have been created to balance weight with design and use the finest quality stainless steel.
Our hollow handled knives use the traditional 3 piece composition, highest grade 18/10 - AISI 304 stainless steel handle (2 piece) and high grade (AISI 420) hardened knife blade (3rd piece), to give the optimum in quality, longevity and design.
All of our cutlery collections are dishwasher safe.